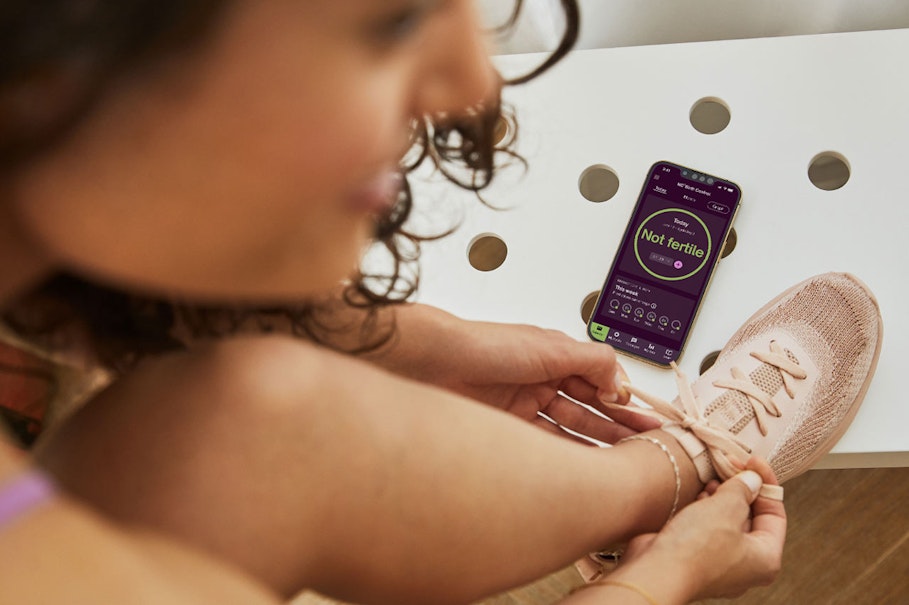 5 NC° Tips and Tricks to Start 2023
The New Year is a classic time to re-think our routines, make changes and get around to those things we may have been putting off over the busy holiday period! We've put together this quick list to help you get the most out of using Natural Cycles in 2023, from smart status-seeing hacks to tips on remembering to measure, look no further, we've got you covered!
1. Know if today is red or green without opening the app
Did you know that you can now see your fertility status without opening the Natural Cycles app every time? Simply create a widget and your status can be easily viewed on your home screen. You'll still need to open the app to add or sync data, but with just a quick glance you can see if today is red or green without returning to the Natural Cycles app... Seeing when you're fertile has never been easier!
It's quick and simple to add widgets. While it only takes a few seconds, setup steps vary between devices so it's best to follow your phone manufacturer's guidance when it comes to setting up this feature.
2. Save tired eyes by switching to Dark Mode
Winter mornings are tricky, we get it! It's too tempting to hide under the duvet from the cold light of day! We also know that most Cyclers open their apps in the morning, either to input data or check their fertility status. You can now reduce glare and be kind to those morning eyes by using the app in Dark Mode instead. This new version of the app comes in rich, deep colors designed to be easy on the eyes.
Switching to Dark Mode is easy - and we've made this option customizable so you can match it with your system preferences or use the app in Dark Mode on its own. Simply visit your app settings and select 'appearance' to make the switch.
3. Set daily reminders to measure
Do you find yourself getting out of bed in the morning and then realizing you forgot to measure? Don't worry, you're not alone, building a routine takes practice and dedication. We all have busy lives, but there are steps you can take to make taking your temperature easier to remember.
Visit your app settings to turn on measuring reminders. Here you can select the type of reminders you want to select - you can choose to be prompted in the evening to make sure you've got your thermometer nearby, or get a nudge when you wake up so you don't forget to take your temperature before getting out of bed. Did you know measuring reminders can be used with Oura now too? Nifty!
4. Get competitive
Sometimes all we need to get motivated is some healthy competition. Visit 'My Cycle' to see your personal insights, here you can also view your longest measuring streak - think you can beat it? Of course you can! Let us know how you get on and share your streak on our social channels. Remember that even if you exclude your temperature, it still counts towards your streak so it doesn't matter if you slept differently or have a hangover: every day you measure counts.
While you're checking out your longest streak you can also view your unique stats. The more you measure the more data is unlocked, it's that simple!
5. Change the way you measure
Sometimes the easiest way to build a routine starts with a change in behavior. One top tip we often hear from Cyclers is to leave the thermometer on top of your phone when you go to bed at night - this helps you remember to measure as soon as the phone's alarm goes off the next day. You can even use a scrunchie or a hair tie to keep your thermometer in place.
If you want to keep phones away from the bedroom, or if you prefer a different kind of alarm, you can still use the same technique. Just put your thermometer on top of the alarm, so even if you hit snooze you can still measure first.
If you find measuring in the morning a real struggle, you could also consider using an Oura Ring to measure continuously overnight. Our recent integration makes it possible to now measure seamlessly without a thermometer, a great option for those of us who love to snooze!
Join our journey!
Thanks for reading! We want to wish our Cyclers a very happy New Year for 2023 - we can't wait to share more exciting features and updates with you very soon. If you're not yet using the world's first birth control app, this is a perfect time to make the switch. Why not find out if Natural Cycles could work for you today?
Did you enjoy reading this article?