The Birth Control Sponge Explained
Today we're going to take a look at the birth control sponge. Whether you're passionate about this hormone-free method or don't know the first thing about it, we want you to understand your options and know where they sit in the contraceptive landscape. Let's take a look at how the birth control sponge works, its effectiveness and more.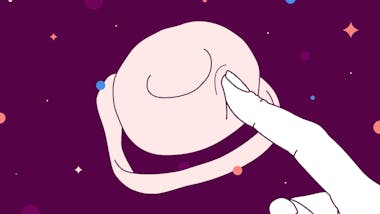 Update: In some markets, the birth control sponge has been out of stock and out of production. If you are unable to find the birth control sponge from an authorized, reputable retailer we strongly recommend you speak to your healthcare provider about alternative options.
What is the birth control sponge?
The birth control sponge is a type of non-hormonal birth control. The birth control sponge (also known as the contraceptive sponge) is a small, round sponge made from soft plastic containing spermicide. The only brand of sponge sold in the US is called the Today Sponge.
How does the birth control sponge work?
The sponge is inserted in the vagina before sex. It helps to prevent pregnancy is two ways: by covering the cervix, and by releasing spermicide which slows down sperm and also blocks the cervix.
Once inserted, a sponge can offer protection for up to 24 hours - sponges are not reusable once removed from the vagina, so after removal each sponge should be thrown away. Every sponge comes with a loop of fabric attached - this makes it easier to remove from the vagina after use. Keep in mind, the sponge should be left in the vagina for at least six hours after sex.
How effective is the birth control sponge?
When it comes to birth control effectiveness, with perfect use the sponge is 88% effective, and with typical use its 83% effective. The birth control sponge is not a barrier birth control method and does not protect against sexually transmitted infections. The good news is you can also use condoms alongside the birth control sponge for extra protection.
Does the birth control sponge have any side effects?
There are some side effects associated with the contraceptive sponge. Some people are sensitive to an ingredient in the spermicide. This can cause irritation and may increase the chances of STIs. There is also a slightly increased risk of toxic shock syndrome for users of the birth control sponge.
Birth control is very subjective as all our bodies and preferences are different. If you find using the birth control sponge makes sex dry or uncomfortable, you can always try using it with a lubricant. Talk to your doctor if you have questions before switching birth control.
Where can I buy the sponge?
The sponge is a prescription-free contraception and is available over-the-counter in some pharmacies, drugstores and supermarkets. You can also buy birth control sponges online for home delivery. In the US, the Today Sponge comes in a three pack and costs roughly $15. You may be able to access the sponge for cheaper or for free through a sexual health clinic.
Using the birth control sponge with Natural Cycles
At Natural Cycles we want you to be protected on your fertile days in a way that works for you. We recommend the use of condoms during the fertile window - although some people may prefer to abstain from intercourse altogether. It's fine to use another method of hormone-free protection that works for you alongside the Natural Cycles app - just make sure you're aware of the method's effectiveness and how its intended to be used.
Keep in mind the birth control sponge has a lower method effectiveness than condoms, and if used on red (Fertile) days may reduce the effectiveness of Natural Cycles.
More reasons to go hormone-free
Thanks for reading up on the birth control sponge. We're passionate about promoting birth control choice, because we know all our bodies are different and there is no one-size-fits-all when it comes to contraception.
In 2018 Natural Cycles became the first app to be cleared by the FDA for use as contraception in the US. Non-hormonal and non-invasive, Natural Cycles is designed for those who want to learn more about their bodies while preventing pregnancy completely hormone-free. Why not find out if it could work for you too?