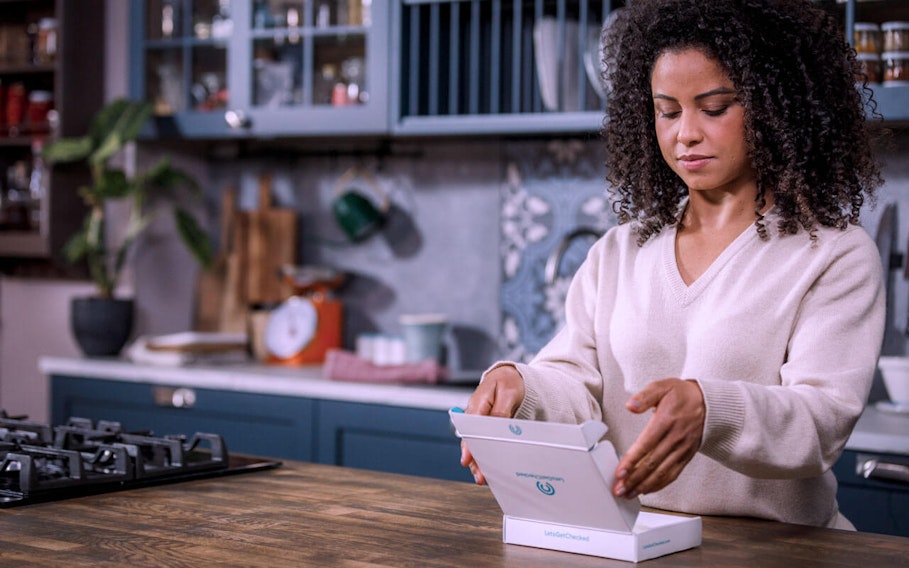 What are the Symptoms of Female Hormone Imbalance?
What comes to mind when you think of your hormones? Perhaps it's the link between hormones and sex drive, or maybe it's the mood fluctuations you might feel at certain points in your cycle. Whatever the association, it's important to recognise that our hormones play a vital role in keeping our bodies healthy and functioning. In this post, we're going to take a look at some symptoms of female hormone imbalance and how you can recognise them. Read on to find out more….
Although hormonal fluctuations are entirely natural during puberty, pregnancy, menopause, as well as menstruation (hormones are responsible for those unwelcome PMS symptoms) some of us may experience a regular hormonal imbalance. This, as you can imagine, can have a significant impact on a number of important aspects of day-to-day life.
So, if you're experiencing consistent mood swings that are getting in the way of your everyday, are finding it difficult to get a good night's sleep, or you simply don't feel like yourself - this is what you need to know about the symptoms of female hormone imbalance, plus how you can check your female hormone levels from home.
What are the common hormonal imbalances in women?
Our endocrine glands (part of a system of glands that regulate hormones) secrete around 50 different hormones, and each is responsible for many important functions. With this in mind, there are of course a number of different hormone imbalances you can experience. However, when it comes to female hormone imbalances, two of these tend to be more common.
Estrogen imbalance
Estrogen is probably the most well-known of the two main female sex hormones. One of its primary responsibilities is to support physical changes such as the growth of breasts and pubic hair. It also plays a crucial role in controlling the menstrual cycle, regulating your mood, and keeping your cholesterol at a healthy level.
When estrogen levels are elevated in the female reproductive system, sometimes referred to as estrogen dominance, it can lead to a number of symptoms, including:
Weight gain
Worsening PMS symptoms
Hot flashes
Fatigue
When levels of estrogen are low in women, which can occur during menopause, symptoms can include:
Hot flashes or night sweats
Low libido or sexual desire
Mood swings
Less frequent periods
Vaginal dryness
Progesterone imbalance
The second of the two common female hormones, progesterone is important for the menstrual cycle and fertility more broadly. It's often most well-known for the role it plays in thickening the lining of the uterus each month - helping to prepare the body for pregnancy.
When progesterone levels are high in women, which is common during early pregnancy, it can cause a number of signs and symptoms, these include:
Anxiety
Reduced sex drive
Changes in weight
The symptoms of low progesterone are typically magnified by high levels of estrogen. Some of the most common symptoms can include:
Breast tenderness
Weight gain
Fatigue
Irregular bleeding
Abdominal pain during pregnancy
How to know if you have a hormonal imbalance
We can't say it enough, but our hormones really are an integral part of our overall health and wellbeing - from controlling our metabolism to affecting our emotions. Of course, this is why hormonal imbalance can cause some noticeable signs that are worth knowing.
Some common symptoms and signs of hormonal imbalance include:
Irregular menstrual cycle or periods stopping completely
Weight gain
Mood changes
Hair growth on the face, chin, and/or chest
Hair loss
Fatigue
If you are experiencing any of the above symptoms, it's important to know for sure what may be the underlying cause - this can be done by consulting with your doctor and/or checking in on your hormone health from home with an at-home Female Hormone Test.
What causes hormone imbalances?
It's entirely natural to experience a certain level of hormonal imbalance during pregnancy, puberty, menopause, or your menstrual cycle. However, if you are experiencing a significant shift in hormones and neither of these four common causes is the reason, then it's possibly a result of a certain condition.
Polycystic ovary syndrome (PCOS)
According to the Office on Women's Health, polycystic ovary syndrome (PCOS) is a condition that affects around 1 in every 10 women of childbearing age, meaning that while it's often not talked about, PCOS is pretty common. PCOS affects how the ovaries function and can cause an imbalance in the reproductive hormones. This can result in irregular periods, excess hair growth, and/or thinning hair - at times it can also increase the time it takes to get pregnant.
Perimenopause
You may have heard of menopause, but are you familiar with perimenopause? This term refers to the time before menopause that your body takes to naturally transition into menopause. During this time, estrogen levels rise and fall and can cause symptoms that are often associated with menopause such as hot flashes, mood changes and even changing cholesterol levels.
How can I check female hormone levels from home?
If you are experiencing symptoms of hormonal imbalance or you would simply like to know more about your hormonal health, checking in on your hormone levels couldn't get much easier with LetsGetChecked's range of at-home Female Hormone Tests.
LetsGetChecked empowers people to engage with their health, and these tests are just some of a number of health tests available to empower you on your journey to knowing your health. Readers of this post can enjoy an exclusive 30% discount on women's health tests at LetsGetChecked today.
The tests give you the opportunity to understand your hormonal health by providing a broad overview of your hormone levels. Each test requires a simple finger prick sample and online results will be available within 2-5 days. A dedicated clinical team is available throughout the whole process so you will be provided with support every step of the way - this includes a one-on-one call to discuss your results.
Whether you are simply curious, are looking to start a family, might be considering pregnancy down the line, and would prefer to test from the comfort of home - LetsGetChecked's range of at-home Female Hormone Tests are on-hand for you.
Track symptoms and learn your unique cycle
Natural Cycles is the world's first FDA cleared birth control, but did you know it can also help you keep track of symptoms? You can log, pain, mood changes, shifts in sex drive, and more in the app. Learn your cycle today and prevent pregnancy on your terms.
Did you enjoy reading this article?