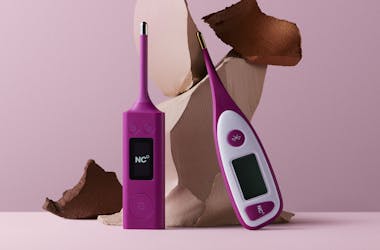 5 reasons to switch to a Bluetooth thermometer
It's the moment many of you have been waiting for… We're offering our Cyclers early access to a brand new Bluetooth thermometer! If you're wondering what's included when you upgrade your measuring device, look no further! In this post we're going to dive into exactly what you'll get when you switch.
We're excited to launch two new Bluetooth thermometers. The thermometer you're offered will depend on your region since there are different certifications and regulations when it comes to the devices. Cyclers in the UK and Europe have access to NC° Thermometer Gen2, whereas Cyclers in the US can get their hands on NC° Thermometer Gen3.
Both devices work with Bluetooth and share many of the same great new features. Stocks are limited on both, so we encourage you to preorder yours today! Now, let's take a look at why it's time to upgrade.
1. Sync temperatures smoothly
Let's start with the BIG one. Our new Bluetooth thermometers make mornings easier, as you don't need to enter your temperature into the app yourself. Once you've paired your phone and thermometer, your data will sync each morning with the click of a button once you've opened the app! Just like that, your temperature data will appear in your app as if by magic… except it's science!
Want to add more data? You can still track sex, bleeding, mood, and more by visiting Add Data as usual. And because we want to make the experience as smooth and flexible as possible, you've still got the option to manually add temperature data when you need or want to.
2. Save multiple measurements
Do you sometimes forget to add data after taking your temperature? No sweat. Our new thermometers can save multiple readings on the same device so you can sync several days' worth of temperatures at a time. Each measurement has its own date stamp so you can also keep track of when you last measured.
The thermometers store at least ten days' worth of temperature data. Of course, we always encourage you to sync and check the NC° app every day so you can get your up-to-date fertility status.
3. Say goodbye to the beep
We know that some users find that a noisy thermometer can be a pain in the beep. So for those Cyclers who have been longing for a way to measure more quietly, the wait is over! Both our new devices come with the option to disable unwanted beeping.
Now you can choose to measure in silence, but feel free to shout from the rooftops when you beat that measuring streak
4. Let there be light
Wondering how you'll know when measuring is complete without a beep? Don't worry, each new thermometer comes with either a button or a backlight that flashes at the end of a measurement. It's up to you if you choose to use this feature and just like the beep, it's customizable. You've got the option to turn it on and off when you feel like it.
A new backlit display means you'll also be able to read your temperature data and know when it's time to measure even in a darkened room. This new display is here to make your morning routine easy-peasy!
5. Level up the look
Last but not least, our new thermometers have a sleek new design and are built with your morning routine in mind. If you want to level up the look of your measuring device then look no further! Both thermometers are an ergonomic upgrade from our old device and fit comfortably in your hand.
Each thermometer is fitted with its own protective case so you can keep measuring on the move, wherever the adventure takes you.
Early access, just for you
Psst! These new thermometers aren't on sale for everyone yet! We're giving YOU exclusive early access before anyone else because we want to say a big thank you for cycling with us. Both thermometers are now available via the Buy Extra Supplies page in the app. We have a limited quantity of both, so order yours before they sell out! Then get ready for an upgraded measuring experience!
Did you enjoy reading this article?