Raising Pregnancy Loss Awareness: Zoë's Story
I've always wanted to be a mother. I can remember aged six, taking the utmost care of my baby dolls, being super careful when changing their clothes so as not to hurt them and asking my own mum how old a baby needed to be to support its own head and neck. I kept track of their birthdays, celebrated them, put them to bed on time, changed their nappies and ensured they had everything they needed...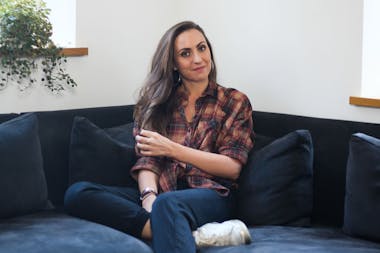 About this post: Zoë has been brave and kind enough to share her personal story of pregnancy loss with the hope of raising pregnancy loss awareness and helping others through this difficult experience. The post also contains references to eating disorders. We know these are hard topics to read about and we want to warn you that some of the content in this post may be upsetting.
As I got a bit older I looked for mother figures in other women and expressed my maternal instincts through working with children as soon as I was 16 years old and grown-up enough to teach dance and babysit the kids down the road. It has always been clear to me that I wanted to be a mum.
Throughout my teens I became unwell with eating disorders, self-harming behaviours and attachment difficulties. I was in a lot of pain and doing my best to cope and function whilst my mental and physical health continued to deteriorate.
I lost my periods for a couple of years around age 15 and then again between 18 and 20. I eventually ended up in inpatient treatment and have been working on my recovery since I was 20... I am now 34 and have grown into a qualified and experienced psychotherapist myself.
Throughout all of this, my desire to have my own children never faltered. I sometimes questioned my motives because the pull towards having a baby was so strong, particularly throughout my 20s, but ultimately it has always been the thing I am most driven toward in life.
This posed some difficulty when, as an adult, I realised how much I struggled with sex and relationships. After a string of unhealthy and unsuccessful relationships, I was 32 when I started dating my now partner.
Already being in my 30s, it was very important to me that if we were serious about each other he was going to be the father of my children. That was a direct conversation, if there ever was one! Luckily for me, he did want me to have his kids, and after 18 months on the pill, we started using Natural Cycles to plan a pregnancy.
I had always worried about my fertility after the eating disorder. Not because of the weight I lost, but simply because of the amount of abuse I put my body through with the purging, laxatives, restriction and over-exercising. I had asked my doctor a couple of times if I could get my fertility tested, but I was always told to come back when I was actually trying for a baby. So it was a wonderful surprise to me, when three months into using Natural Cycles, I was pregnant!
In May 2021 a pregnancy test said I was 4 weeks pregnant. I was over the moon and so grateful and relieved that despite the challenges I'd faced, the thing I had always wanted was being made easy for me. The weird thing was that, I knew! I woke up that morning and thought: I should take a pregnancy test today. This intuitive knowing turned out to be both a blessing and a curse for what was to follow...
Although it's unusual to go for a scan before twelve weeks unless advised by your doctor, I was desperate for early scans because I'd heard some really traumatic experiences from friends about miscarriages and I wanted to feel reassured that everything was OK and that my experience was going to be good and healthy.
My first six weeks went according to plan, I had all the symptoms of early pregnancy and felt pretty physically horrendous and emotionally quite up and down too. It was a huge challenge for me to let go of control around my body, putting up with bloating, toning down my exercise, changing the way I ate…to be quite honest I felt awful and very sick! But I was prepared to tolerate it because it was all for my baby.
Then we did go for a very early scan, privately, which confirmed we were pregnant, and that the pregnancy was in the right place, but there was no heartbeat…yet. While it was early to detect a heartbeat, the sonographer said that we may have gotten our dates wrong or that, "the pregnancy will not be successful." Those words stuck to my mind like superglue. He told us to come back in two weeks. We were both silent, both of us in totally unfamiliar territory.
That evening, having held myself together all day, I burst into tears and sobbed into my partner's arms. I was absolutely heartbroken that there was no heartbeat yet, although it is not always possible to detect a heartbeat in such an early scan, the mere idea that our pregnancy might not be successful terrified me.
You can only imagine the amount of research I did in those two weeks trying to convince myself that everything was going to be OK and that it was just too early to see the heartbeat. I delved deep into Google Scholar research studies on miscarriage, embryonic measurements and pregnancy loss in general.
Ultimately, I think, just like my gut knew I was pregnant, I knew something was wrong. The hardest thing about this was that, like many other pregnant couples, we were strongly advised not to tell anyone that we were pregnant, so for the next two weeks I lived in a lonely limbo - knowing in my mind that I needed to prepare for the worst, but my heart was unable to do that.
We returned for another private scan just before the 9-week mark and when there was still no heartbeat we were sent to the Early Pregnancy Unit, where at 10 weeks, despite there being some growth, they diagnosed a missed miscarriage.
Only now did my heart begin to catch up, the pain was crushing. I have been through a lot in my life and I have bounced back from some awful things, but I have never cried the way I cried when I was told that our baby was not going to make it. It was a visceral pain, I don't have the words to describe.
The grief was immense and although the hospital looked after the physical side of things brilliantly and with so much kindness and clarity, I was totally unprepared for the emotional repercussions. I chose to have an ERPC (Evacuation of Retained Products of Conception) - it was the quickest way out and I just wanted it to be over.
To give you an idea of the depth of the emotional pain involved in the process, by the time I was going into the operating theatre I was so deeply distraught that I couldn't even answer questions about my own name. As I type this, I still feel that bone-shattering sadness.
In the weeks that followed I recovered physically really well, from what I can tell, but I was struck by the lack of support and education around the emotional and psychological side of having a miscarriage.
All of my old disordered urges came up as I worked through feelings I had no capacity to tolerate. Only because of my experience in therapy and being a therapist did I feel and think I had the tools to manage what was happening in my internal landscape. This left me often wondering how other people have coped with this experience.
So, I started talking to people about it. The more I spoke, the more women told me that they'd had a similar experience. I have to say that reaching out and connecting with others who had been through pregnancy loss was, hands down, the thing that helped me the most.
When they acknowledged my sadness I felt understood in a way that someone who has not lost a pregnancy just cannot comprehend. My partner was absolutely wonderful through it all, I could not have asked for more - but I needed that identification from other women. Yes, he lost a pregnancy too, but it was not in his body, he couldn't feel it or see it in the same way, it wasn't quite so tangible to him yet. Only when I spoke to other women did I feel less alone and, eventually, I got the sense that I was going to be OK.
After about three weeks I decided to start logging my temperature in the Natural Cycles app again. The app sent me a message that included condolences for my loss and also an email address to contact Natural Cycles directly regarding pregnancy loss support and research.
Feeling pretty passionate about raising pregnancy loss awareness after my experience, I popped over an email to Dr. Jack Pearson, the head of Medical Affairs at Natural Cycles, who responded so kindly and helpfully I was quite taken aback.
I would have expected an app-based health service to respond with a standard statement, but Dr. Jack was interested in my experience and wanted to meet up to find out more and also see how Natural Cycles could improve the app by providing more support around pregnancy loss.
So we met up. It was wonderful to meet an expert on the other side of Natural Cycles and with his knowledge and my psychotherapeutic experience we agreed to join forces to help raise awareness around pregnancy loss and start thinking about providing the tools and resources needed to support people through the psychological and emotional experience. Sharing my story here is just the start.
At the time of writing, I am now eight weeks post-miscarriage, it doesn't seem like long at all when I say it like that. I am still telling people about my loss and other women are still saying 'the same thing happened to me!'.
I still feel pretty distraught when my peers announce their pregnancies, births and due dates - it makes me really, really sad that I could have been five months pregnant right now and instead I am writing this.
While the stats show that 1 in 4 pregnancies end in pregnancy loss, I can vouch for the fact that knowing the figures does not prepare anyone for the actual experience of it happening to you. There are people out there with far more traumatic pregnancy loss stories than mine, but what I have learned is that, no matter how early or late your loss, from the moment you find out you are pregnant, you have been a mother and will always have been a mother no matter how brief.
I hope that reading this has been helpful and please feel free to find out more or visit my website or Instagram if you want to reach out.
A huge thanks to Zoë for sharing her personal story with us. We hope publishing it here on our blog will help raise pregnancy loss awareness. Readers in the US affected by pregnancy loss can find out more info from March of Dime, while our UK readers can find advice and resources through the Miscarriage Association.
At Natural Cycles we are committed to broadening research in the field of women's health. Our app uses the basal body temperature method to find fertile days, this knowledge can then be used to prevent or plan a pregnancy depending on your fertility goal.