What is Postpartum Depression?
Also known as postnatal depression, postpartum depression is a condition that's commonly experienced by parents after having a baby. Like many conditions surrounding both female and mental health, postpartum depression is shrouded in stigma and isn't often talked about. This World Maternal Health Day, we're opening up the conversation around this sometimes tricky topic. Read on to find out more about the causes, symptoms, and treatments for postpartum depression…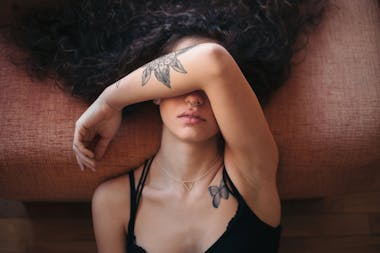 Who gets postpartum depression?
There's nothing shameful about experiencing postpartum depression - this condition can affect anyone and is actually very common, even if it's not often talked about. In fact, as many as one in ten women are likely to experience postpartum depression within a year of giving birth. Postpartum depression isn't only experienced by women or mothers, postpartum depression can affect fathers and partners too.
What is postpartum depression like?
It's common to feel anxious or sad after giving birth. However, if this doesn't pass within a couple of weeks after giving birth, it may be a sign of postpartum depression. As with all types of depression, postpartum depression affects everyone differently - but the symptoms tend to last longer than a couple of weeks and may not manifest until weeks or months after the birth.
Symptoms of postpartum depression:
Persistent low mood

No longer feeling interested or enjoyment in things

Lacking energy and feeling constantly tired

Problems sleeping

Finding it hard to bond with your baby

Withdrawing from other people

Difficulty concentrating and making decisions

Disturbing or upsetting thoughts such as harming yourself or your baby
If you're experiencing any symptoms of postpartum depression you should talk to a healthcare professional as soon as you can - and reach out to those around you if you feel able. Remember that help is available and you don't have to go through this on your own.
When does postpartum depression start?
Postpartum depression can start at any time within the first year after giving birth. This makes it different to the baby blues, a low mood or feeling of sadness that typically happens soon after giving birth
How long does postpartum depression last?
Postpartum depression can last for several months. Without treatment, postpartum depression can last for even longer so it's important you talk to someone as soon as you can if you think you're experiencing postpartum depression.
Postpartum depression causes
We don't know the exact cause of postpartum depression and sometimes it may seem like there is no cause at all. However, there are a number of things that can make you more likely to experience postpartum depression, including:
Mental health conditions prior to or during the pregnancy
Having no support network of family or friends
Relationship difficulties with a partner
Recent traumatic life events, such as the death of a loved one
Physical or psychological trauma
Looking after a baby is life-changing and can be extremely tiring and stressful - keep in mind that not everyone has a 'trigger' when it comes to postpartum depression.
Postpartum depression help and treatment
The first step to getting help with postpartum depression is to talk to your healthcare provider. They will be able to offer advice and discuss treatment options with you. You can also check out the CDC's guide on depression treatment for more advice on seeking help with postpartum depression.
You may also find it helpful to share what you're experiencing with people close to you if you have a support network you can trust. Remember it's OK to ask for help if you are finding things difficult. If you or someone you know is in crisis you should call 911 or reach out to the National Suicide Prevention Lifeline for immediate support.
Tips on preventing post postpartum depression
Just as there are no direct causes of postpartum depression, there is no one way to prevent it. However, there are a few things you can do that may reduce your risk of experiencing postpartum depression, these include:
Building a close support network, meeting new parents with babies may also help
Maintaining a healthy lifestyle: eat well, exercise and try to get as much sleep as possible (we know that might not be easy with a young baby)
Talking to a healthcare professional if you are pregnant and have a history of depression or if someone in your family has experienced postpartum depression
Ending the stigma surrounding female health
There is substantial stigma surrounding postpartum depression partly because there is an idea of how parents, and mothers, in particular, should feel after having a baby - but just as with all mental health conditions, those experiencing postpartum depression cannot control the way they are feeling. We think it's important to normalize the conversation around postpartum depression and end the stigma surrounding female health more widely.
Established in 2015, World Maternal Mental Health Day aims to raise awareness of maternal mental health issues so that more women will get treatment and fewer will suffer. Interested in raising awareness around postpartum depression and other conditions? Find out more about this year's campaign and how you can get involved.
Plan or prevent pregnancy with Natural Cycles
Thanks for reading about postpartum depression - here at Natural Cycles we're passionate about closing the knowledge gap when it comes to female health.
The first FDA cleared birth control app, Natural Cycles, is a non-hormonal way to prevent pregnancy, but did you know the app can also help you plan a pregnancy if and when the time is right? By learning the pattern of your unique cycle, you can identify your most fertile days, putting the power of your fertility in your hands. You can also keep track of the changes happening in your body during and post-pregnancy - monitor mood, sex drive, pain, and more.