Sex After Pregnancy
Let's talk about sex after pregnancy. In this post, we'll cover how long you're advised to wait before having sex after pregnancy, common changes in libido levels, plus what to expect when it comes to postpartum sex and how you can prepare. Read on to learn more about sex after pregnancy...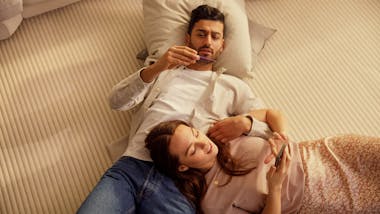 How soon can you have sex after giving birth?
First things first, there's no right answer when it comes to how long you should wait before having penetrative sex after giving birth (also known as postpartum sex). Many doctors recommend waiting six weeks. In reality, you may feel like you need to wait longer, or perhaps you'll feel ready sooner. The situation is very individual to you, and you'll likely know when it feels right.
If you've had a vaginal delivery, you may have had stitches or an episiotomy and it's advised you keep this area clean and avoid sex until the vagina has healed. If you've given birth via cesarean you'll also need to give your body some time to recover.
If you have sex before you're ready, it can be more painful, uncomfortable, and ultimately unsatisfying. Be honest about how you feel with yourself and your partner, and make sure you're ready before you jump back into it.
Changes to the vagina after giving birth
Your vagina is amazingly stretchy. You will notice visual changes to your vagina in the days and weeks following a vaginal birth and, at first, there might be some swelling and bruising. Over time the vagina will heal and reshape, and while it might not be exactly the same as it was pre-pregnancy, changes to the vagina don't generally affect our sex lives after giving birth.
It's not true that sex after giving birth is worse because vaginas are 'looser.' This is a myth - just like how we are often told we have an intact hymen until we have sex for the first time. In reality, our vaginas are much more adaptable and stretchy than that.
Pelvic floor training and sex after pregnancy
Not only can pelvic floor training help with incontinence after pregnancy, but it's also reported to help improve postpartum sex. You can build pelvic floor strength yourself by doing some muscle exercises, or you can invest in a pelvic floor trainer.
Non-penetrative sex after giving birth
Remember that the world of pleasure does not revolve around penetrative sex. Most female orgasms happen due to stimulation of the clitoris, and there are many types of sex other than penetration. If you don't feel ready to have penetrative sex yet, why not try something else?
Low sex drive after pregnancy
There are many things that can impact your libido or sex drive after having a baby. From the physical impact pregnancy has on the body, to lack of sleep, to changing hormone levels, it's no wonder we might not be feeling frisky for some time after having a baby.
Painful sex after birth
After giving birth, it's not uncommon to experience some pain during sex. Waiting until you're fully recovered and ready is a good start to reducing painful sex. However, you can also make things more comfortable by using lubricants or by trying non-penetrative sex first.
When you're ready, make sure you're prepared
It's possible to get pregnant again as soon as three weeks after giving birth, so it is really important to have your birth control options figured out so you're prepared when you do choose to have sex again.
How likely you are to be fertile postpartum depends on a number of factors. For example, breastfeeding can act as a method of contraception, but there are guidelines around using breastfeeding as birth control, so make sure you discuss this with your doctor..
Ready to meet your next fertility partner?
We hope you've learned lots about sex after pregnancy. Here are Natural Cycles, we're committed to broadening awareness when it comes to reproductive and sex education. We're also passionate about expanding knowledge and research in the field of women's health.
Natural Cycles is the first FDA cleared birth control app. It's hormone-free, non-invasive and tailored to you. You can use Natural Cycles as birth control after pregnancy - but we recommend starting when you get your first period after giving birth.
Natural Cycles doesn't just help you prevent pregnancy, but when the time is right the same science can be used to plan a pregnancy. Find out how Natural Cycles works today.