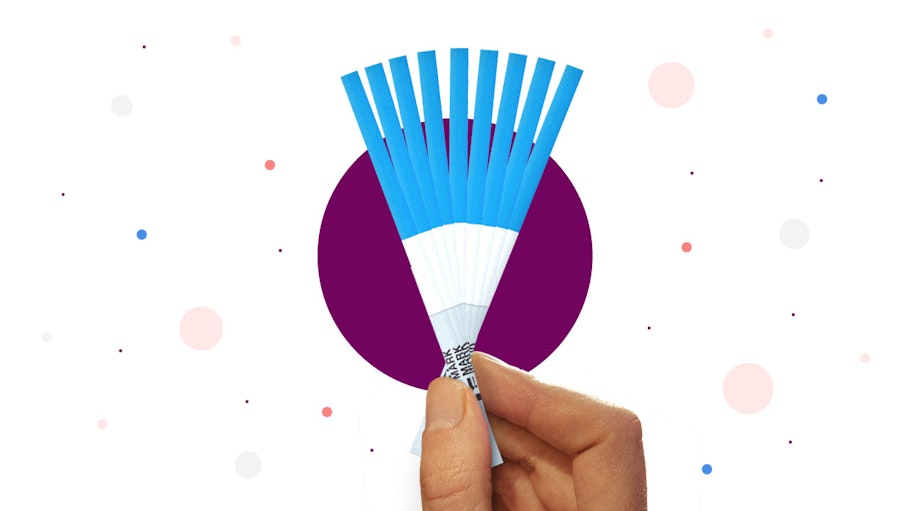 When Can I Take a Pregnancy Test?
If you think you might be pregnant, we recommend taking a pregnancy test on the first day of your missed period (that's the day after your period is due to arrive). Read on to find out just how early you can take a pregnancy test, what you can do if you don't know when your period is due, the likelihood of false pregnancy test results, and much more…
How do pregnancy tests work?
Pregnancy tests work by detecting a pregnancy hormone called human chorionic gonadotropin in urine. Tests vary in size and style, but they are usually plastic sticks that come in packs of one or more. While test designs vary, they tend to work in similar ways: you either pee on the stick or dip the stick in a urine sample to carry out the test. Remember to always read the enclosed instructions before doing a pregnancy test to make sure you're following the specific guidelines.
When to take pregnancy tests after a missed period
If your period is already a day or more late you don't need to wait, you can take a pregnancy test right away. Keep in mind that there are many reasons for late periods such as stress and changes to diet or lifestyle, a late period doesn't always mean pregnancy. However, it's a good idea to take a test if you've had unprotected sex and think you might be pregnant.
How soon after unprotected sex can I test for pregnancy?
If you don't know when your period is due, we recommend testing for pregnancy at least 21 days after you've had unprotected sex. Keep in mind that if you test too soon after you've had sex, there may not be enough pregnancy hormone present to detect a pregnancy.
Keep in mind that if you're trying to prevent pregnancy, you can still take emergency birth control for up to five days after having unprotected sex.
How early can you take a pregnancy test?
In some cases, you may be able to test before your period is even a day late, as some very sensitive pregnancy tests can be used as early as eight days after you've had sex. Remember that early testing cannot always be relied upon.
Whether you decide to test earlier than recommended is up to you. However, for some people, early testing can increase stress and anxiety since accuracy can be reduced and further tests may be required.
When's the best time of day to take a pregnancy test?
Some advice points to taking pregnancy tests first thing in the morning when urine is more concentrated. However, if you take a pregnancy test when your period is due, you should be able to get an accurate result no matter what time of day you take the pregnancy test.
How accurate are pregnancy tests?
Home testing kits are highly accurate providing you follow the instructions and test at the right time. Be aware that some medications can affect results, so speak to your doctor if you have questions about this.
Can you get a false positive pregnancy test?
While theoretically possible, false positive results are highly unlikely. False negatives are much more common and can happen if you take a test too early. If there isn't enough hormone present, the test may read as negative. If you still think you might be pregnant with a negative result, wait a couple more days then test again. Consult a healthcare professional if you continue to get negative test results but your period still hasn't arrived.
Where can I get pregnancy tests?
You can usually get hold of pregnancy tests over-the-counter in your local pharmacy or supermarket. You can also order pregnancy tests online for home delivery. You may also be able to get pregnancy tests for free from your healthcare professional or by visiting a local clinic.
How soon can you get symptoms of pregnancy?
Some signs of pregnancy such as nausea can take as long as four to six weeks to develop. Many won't experience any symptoms at all in early pregnancy, and to make things more confusing, the symptoms of early pregnancy have a lot in common with PMS symptoms, such as sore breasts and tiredness. So if you think there's a chance you might be pregnant it's a good idea to take a test.
Natural Cycles can help you get pregnant faster
Not only can Natural Cycles be used as birth control, but it can also be used to plan a pregnancy when the time is right. In fact, our study found that couples who used Natural Cycles to plan pregnancy on average got pregnant in three cycles or fewer. This is because Natural Cycles helps you have more knowledge of your potential ovulation day, so you can time intercourse around this.
The Natural Cycles app uses basal body temperature data to find your individual ovulation. Take your temperature most mornings, enter it into the app and the algorithm will work out whether or not you're fertile each day. Why not find out if Natural could work for you?
Did you enjoy reading this article?