Why Latricia said Goodbye to Synthetic Hormones
August 20, 2019 was the last day of my 13-year hormonal birth control journey. Reflecting upon the journey thirteen months later, I can honestly say that living synthetic hormone-free again was one of the best decisions that I have ever made...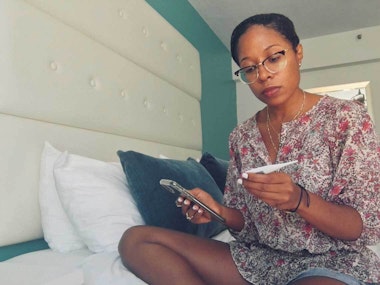 Disclaimer: This is one Natural Cycles user's experience coming off hormonal birth control. Every woman's experience is different and we encourage all women to talk to their healthcare provider when considering switching birth control.
However, compared to my other synthetic hormone-free counterparts that have documented their journeys through blog posts or YouTube videos, I found that my journey, in particular, was altogether different— one that was incredibly challenging and nebulously navigated, given the lack of stories from others who looked like me to help me find solace along the way.
Why I stopped taking hormonal birth control
I decided to stop taking hormonal birth control because… to be quite frank, it was time to do so! During the fall of 2019, I began transitioning to the vegan lifestyle that I now follow, and I wanted to purge all things that I believed were not benefiting the health and wellness of my body. Even more so, I wanted to see how my body navigated its own hormonal sphere, given that I hadn't experienced that (nor remember it, for that matter) since I was 16 years old.
The only thing that was holding me back from stopping was my fear of acne overload—something that I struggled with significantly as a teenager and also during various moments on the birth control pill. However, I came to the realization that my body's internal health was more significant than the vanity behind my primary fear, so on August 20, 2019, I took my last pill, hoping for the best.
What happened when I stopped taking birth control
Although I watched and read several stories from those who have tread this uncharted terrain before me, none of them seemed to compare to what I experienced during the post-pill aftermath. Now, don't get me wrong—it was incredibly helpful to hear and see what I could potentially experience when getting off the pill; however, I often found myself feeling frustrated about the voices that were missing from these narratives. What about black women's experiences off hormonal birth control? What were their journeys like? Constantly searching—and unfortunately, to no avail—forced me to go about this journey the best way that I knew how: eating clean, drinking lots of water, and consistent exercise with a dash of luck on the side.
Even though I spent quite some time on hormonal birth control, my natural cycle *wink* picked up as if it never stopped. Some of the post-pill aftermath that I experienced (and sometimes still do!) was excessive sweating, painful cystic acne, significant weight loss, acne, incredibly high emotions (I preface that one by saying that emotions are indeed superpowers, but still… when you know, you know), hair loss, drier, brittle hair… and did I mention, acne?
Despite these side effects, I also haven't felt happier; it truly was as if an endless fog of gray dissipated into thin air post-August 20th. I also now have more energy to get things done and my sleep is even better than it was before. Also, this may be too much information, but I now have regular "movements," which wasn't the case when I was on the pill—who knew!
Where did Natural Cycles come into play?
Prior to stopping hormonal birth control, I knew that I still needed an effective birth control option that was synthetic hormone-free and a viable alternative that I could depend on. This said, I began using Natural Cycles immediately after my withdrawal bleed in August of 2019 and I haven't looked back since!
Natural Cycles helped me to learn more about my body beyond what was prescribed in the classic American Girl's The Care and Keeping of You and elementary sex education discussions.
I now know about my cycle and its various stages in such an intimate way! And in those moments when I wanted to hide under my bed and not leave my apartment because of my insane acne, receiving messages about how great my measuring was for each cycle kept me going… and even more so, knowing that I was well on my way to living a synthetic hormone-free birth control lifestyle helped me to be more kind to myself from the inside out.
Want to try going hormone-free like Latricia? Get 20% off Natural Cycles plus a free thermometer with Latricia's referral code.