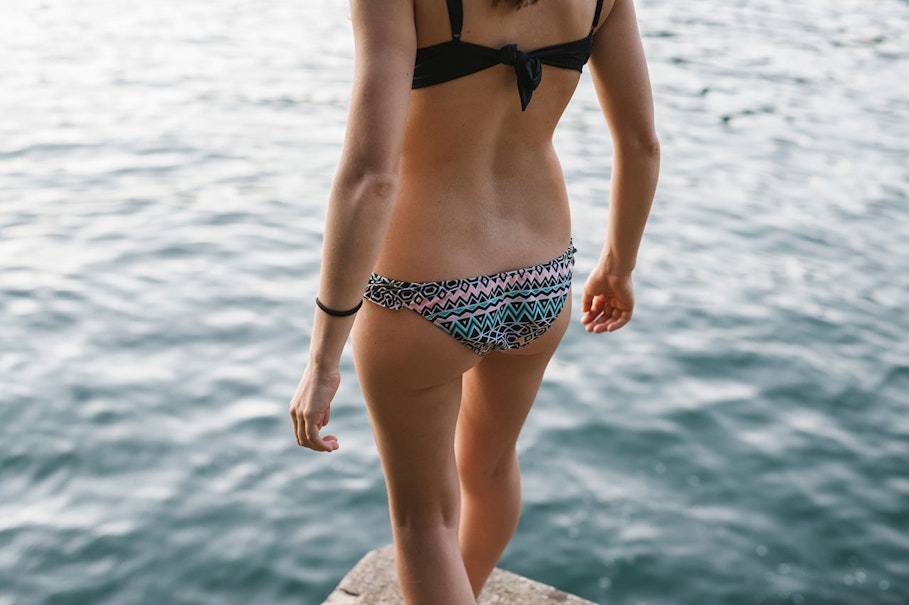 Can you swim on your period?
With summer right around the corner, it's time to get back in the water! But what if you're on your period? Whether you love swimming and are worried about whether you have to avoid your local swimming pool, or you're heading on vacation and it coincides with your period, we're here to answer all of your questions.
Is it OK to swim on your period?
First things first: can you swim while menstruating? The answer is a resounding yes! It's absolutely safe to swim on your period. There aren't any potential health risks, so if you want to jump in the swimming pool or the sea, then feel free!
In fact, if you suffer from menstrual cramps, light exercise like swimming may actually help to relieve your symptoms, as when you exercise, your body releases endorphins. These act like natural painkillers, which can help to reduce the pain of those pesky period cramps. What's more, they can also give you a boost of feel-good energy, meaning you might go into the swimming pool feeling sluggish and down – but you could come out feeling revitalized and in a more positive frame of mind.
Will I bleed in the pool during my period?
This is often a big worry. You want to get your lengths in, but you're worried about leaving a bloody trail in the water behind you. The good news is that the water pressure in both the swimming pool and the sea often temporarily stops your menstrual flow while you swim.
Your period doesn't stop while you're swimming, but the water pressure can stop menstrual blood from flowing out as you swim. If there are any changes in abdominal pressure – such as if you sneeze, laugh or cough – then some blood may be pushed out.
However, there's no need to worry if you're swimming in a pool as the volume of water is so large, so if a small amount of period blood does escape into the water, it'll be diluted and unlikely to be seen by other swimmers.
Also – just for your peace of mind – there's no need to worry about shark attacks if you're swimming in the sea while you're on your period! There's no recorded correlation between period blood and shark attacks. Plus, the amount of blood you lose during your entire menstrual cycle is as little as six tablespoons.
So in one swimming session, the amount of blood that might leak into the sea is extremely low indeed – definitely not enough to tempt any lurking sharks. Even if the shark could detect your blood in the water, humans are not their preferred prey so it likely wouldn't be that interested in you, whether you're on your period or not.
Is it OK to swim on your period without a tampon?
While it's unlikely that any menstrual blood will be visible in the water, that could change when you get out of the swimming pool.
The change in pressure when you get out of the water could cause your menstrual flow to restart, so you might end up with some visible blood before you get into the water, and when you get out.
It's okay to swim without using any period products, but if you feel more comfortable using them, you have a couple of options: tampons and menstrual cups.
Tampons have been used by swimmers for many years, including by competitive swimmers in races. They're convenient and safe to use when you're swimming – just remember to change them every four to eight hours to reduce the risk of toxic shock syndrome.
Menstrual cups are another good option for swimmers. They work using suction, creating a seal to collect blood within the cup. When you're swimming, the seal means that no water will get in and no blood will get out – so you don't need to worry about any leaks.
The only period product that isn't recommended for swimming is pads. They absorb liquid, so they're likely to get weighed down while you're in the water, meaning they're not likely to do their job very well and may even fall out - not ideal!
If you don't like using cups or tampons, you can get period swimwear, which works in the same way as period pants that absorb blood. They're also a more sustainable choice, as they can be washed and reused again and again.
Can you delay your period for swimming?
If you're going on holiday and you really don't want to swim while you're on your period, then it is possible to delay your period using a certain medication called norethisterone.
If you take the combined hormonal contraceptive pill, then you can delay your period by starting the next pack immediately instead of taking the placebo pills or taking your usual seven-day break between pill packets.
It's always best to speak to your doctor or healthcare provider about the options if you want to delay your period specifically for a holiday, or if you're a regular swimmer and don't like using period products.
Swimming on your period, sorted
So there you have it: it's completely safe to swim on your period if you want to. You may want to wear period products such as a tampon, menstrual cup or period swimwear while you're in the swimming pool or the sea – but it's totally safe not to, as well.
Hopefully, you'll have more peace of mind next time you head for a swim, whether it's for an invigorating training session or a leisurely dip!
By tracking your menstrual cycle with Natural Cycles, you'll have fewer surprises when it comes to your period. That means you'll know when to expect bleeding, so you can be better prepared for your swim sessions, and all you need to focus on is enjoying the experience. Find out if Natural Cycles hormone-free birth control could work for you today.
Did you enjoy reading this article?