5 Reasons Women Switched Birth Control
This year really wasn't like any other, but here at Natural Cycles we've seen more women choose to go hormone-free than ever before. From lifestyle changes to hormonal headaches, join us as we round up some of the reasons women switched birth control and why now is the perfect time to start the next chapter on your fertility journey.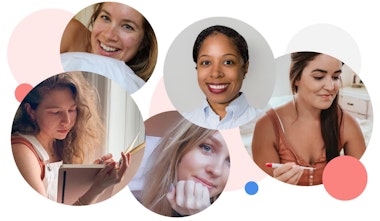 Disclaimer: This post covers the experiences of five women coming off hormonal birth control. Every woman's experience is different and we encourage all women to talk to their healthcare provider when considering switching birth control.

1. New beginnings
The new year is a perfect time to think about starting new opportunities and breaking old habits. For Joanna, choosing to go hormone-free was all about new beginnings. In Joanna's own words, 'I'd only been taking oral contraception because it was convenient'. Starting with Natural Cycles was part of a wider choice to focus on herself and a hormone-free future.
Today, Joanna has been with us for more than thirty cycles. She's no newbie Cycler, but she still enjoys the app's PMS reminders and fertility prediction feature to help her stay on top of the natural changes throughout her cycle.
Read Joanna's full post and access her discount code here.

2. Migraine headaches
Did you know there's a link between the sex hormone progesterone and migraine headaches? On top of this, some women who experience migraines can't take hormonal birth control methods that use synthetic estrogen. For Abby, switching to Natural Cycles helped her pinpoint the days in her cycle when she was most likely to suffer a migraine attack, meaning she could expect and manage her symptoms.
Abby told us 'I knew that if I found a way to balance my hormones from the inside out, rather than the outside in, I would be a happier and healthier version of myself.' We couldn't agree more with Abby's sentiment, we believe in birth control choice so every woman has the option to choose the birth control method that suits her best, and no woman should have to choose between health and contraception.
Read Abby's full post and access her discount code here.

3. Lifestyle choices
For Kattija, choosing to go hormone-free was a really big deal. She'd been on the pill since she was sixteen years old and was terrified of switching birth control methods. However, her decision to change to Natural Cycles was motivated by her vegan lifestyle. 'As I went vegan three years ago, I continuously kept on taking the pills despite knowing they contained lactose and it wasn't until one and a half years ago, that my conscience started bugging me with this.'
After quitting hormonal birth control for ethical reasons, Kattija was surprised to experience some unexpected consequences. Increased libido, a reduction in headaches, and more mental clarity are all changes in her bodies she's witnessed since switching to Natural Cycles.
Read Kattija's full post and access her discount code here.

4. There's lots to learn
After years on the IUD, Molly was eager to go hormone-free and find out more about how her body behaved when she wasn't taking hormonal birth control. While she wasn't sure what to expect, Molly knew she wanted to make the change anyway.
It turned out to be quite the educational journey, and now, with help from Natural Cycles, Molly's learned to read the pattern of her own unique cycle. 'After two years, I know my body better than I ever have. I listen to her and what she tells me. Regardless of the calendar, I can anticipate the moment I will get my period, down to the hour.' While Molly's own journey is unique, this incredible learning experience is open to all women looking to switch to Natural Cycles.
Read Molly's full post and access her discount code here.

5. It was time
Sometimes a decision just feels right. For Latricia her decision to start with Natural Cycles in the summer of 2019 was motivated by her decision to come off hormonal birth control, which she'd been using since she was sixteen.
Switching birth control wasn't an easy decision to make, and it wasn't made any easier by a lack of representation when it came to considering her options. 'Although I watched and read several stories from those who have tread this uncharted terrain before me, none of them seemed to compare to what I experienced during the post-pill aftermath.' Despite the lack of representation of women of color in the birth control landscape, Latricia went ahead and took the plunge. We are so grateful to her and to all women who are bold enough to share their birth control stories.
Read Latricia's full post and access her discount code here.
Are you ready to make a change?
Women around the world are choosing to ditch hormonal methods and instead are signing up for Natural Cycles, the world's first and only birth control app. Whether you're looking to learn more about your body, want to say goodbye to hormones once and or for all, or are thinking of starting a family in the future, there are a lot of reasons to make the switch. Are you ready to join the revolution in hormone-free birth control?