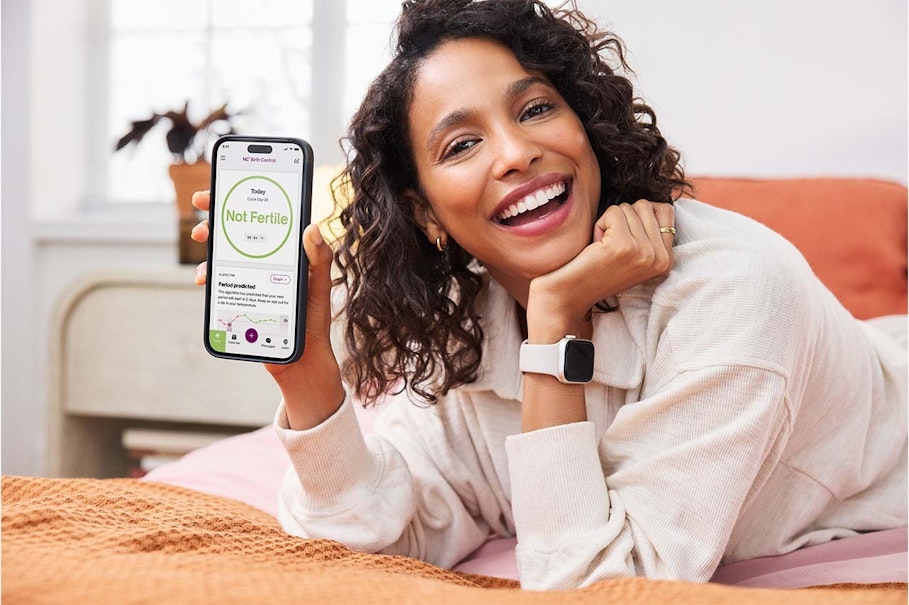 Can I use my Apple Watch as birth control?
Apple Watch on its own cannot be used as a birth control method. While Apple's Cycle Tracking features can give you some insights into your fertility, the feature doesn't offer the full picture. That's where Natural Cycles can help.
Natural Cycles is the world's first and only birth control app that now integrates with Apple Watch. In this post, we'll take a deep dive into how this integration works and how you can get started.
What is Natural Cycles?
As an FDA Cleared medical device, the Natural Cycles app is a hormone-free contraceptive method and the brainchild of Particle Physicist Dr. Elina Berglund. Founded in Sweden, Natural Cycles was first certified for use as contraception in Europe and later launched in the U.S. in 2018.
Natural Cycles is based on the science of your cycle, as there is a link between your fertility and your body temperature. That NC° algorithm analyzes daily temperature data and can predict your unique fertile window so you know when you can and can't get pregnant.
Users measure either overnight with a wearable device like Apple Watch, or in the morning with a basal thermometer. Each measuring device syncs with the Natural Cycles app, where you can view your daily fertility status. On Green Days you're not fertile, and on Red Days you are fertile and should abstain from sex or use protection.
What's also cool is that while the algorithm can help you prevent pregnancy, at any time you can switch modes in the app to NC° Plan Pregnancy, and the app can help you get pregnant faster.
How does Natural Cycles predict ovulation?
Using temperature and period data, the NC° algorithm analyzes the pattern of your cycle. With this information that's unique to you, it can forecast your future fertile window, and predict the day when you're going to ovulate.
When you first start using Natural Cycles, you're likely to get more Red Days. Over time, as the algorithm gets to know your cycle better and better, you'll get more Green Days. This buffer window is here to protect you and means that Natural Cycles is effective as a birth control method from day one.
How effective is NC° Birth Control?
Natural Cycles birth control is 93% effective with typical use, and 98% with perfect use. Using Natural Cycles perfectly simply means not having unprotected sex on a Red Day. Keep in mind that no method of birth control is 100% effective at preventing pregnancy.
Our research shows that measuring with Apple Watch is just as effective as using Natural Cycles with another device such as a basal thermometer or an Oura Ring. The analysis looked at data from more than 500 cycles and found the method to be 93% effective with typical use and 98% effective with perfect use.
How do I connect my Apple Watch to Natural Cycles?
Getting started is easy! First, just download the Natural Cycles app. Then just follow the guide in the app to get started.
If you're not currently using birth control, or are using a hormone-free method such as condoms, you can get started with Natural Cycles straight away. If you're using another birth control method, there might be a couple of steps you need to take before getting started – learn more about switching birth control.
Your data is always protected
Our privacy protection program means your data is secure at all times when you're using the Natural Cycles app. We never sell your data or share it with any third parties. Our advanced data protection uses protocols like encryption and pseudonymization, and as a regulated medical device, we comply with the FDA's cybersecurity requirements.
Plan or prevent pregnancy
Natural Cycles hormone-free birth control is a great option for many of us for so many reasons, whether it's a solution to the side effects of hormonal birth control, or because you want to learn more about your cycle. It can even help you plan pregnancy. In fact, many women choose to use Natural Cycles as a natural birth control because they want to plan a pregnancy in the future.
Using the app to plan a pregnancy is simple. You can switch from using Natural Cycles birth control at any time with no extra cost. The science you use to prevent pregnancy is simply flipped so you know the best time to have sex to increase your chances of conception.
Unlock a learning journey like no other
Not only can you prevent or plan a pregnancy with Natural Cycles, but you'll also embark on an incredible learning journey. Track changes in your mood or record physical symptoms to spot patterns in your cycle. You'll also get personal insights and bespoke messages like our popular PMS alert, and our life-changing breast check reminder.
Did you enjoy reading this article?