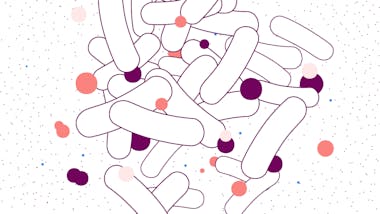 How Do You Get a UTI?
In this post, we're going to look at urinary tract infections. From what they are to how to treat them, there's lots to learn about UTIs. Join us as we cover some causes of female urinary tract infections, how to prevent UTIs, plus some common symptoms. Read on to find out more…
What is a UTI?
UTI stands for urinary tract infection, this is a type of bacterial infection that usually affects the urinary tract, bladder or kidneys. Anyone can get a UTI, but they are more common in the female reproductive system, due to our urethras being closer to the rectum and shorter than male urethras.
The most common type of UTI is cystitis (an infection of the bladder). While uncomfortable and sometimes painful, these types of infections are usually easy to treat. Now, let's take a look at some of the causes of UTIs.
Urinary tract infection causes
UTIs are caused by bacteria getting into the urinary tract. This can happen due to a number of reasons. Unfortunately, some people seem to be more prone to UTIs than others. The following list includes things that increase the chances of getting a UTI:
Pregnancy
Having sex
Kidney stones
A weakened immune system
Not drinking enough fluids
Not keeping the vulva clean and dry
Wiping back to front after using the toilet
What are the symptoms of UTIs?
Symptoms of a urinary tract infection in adults include:
Needing to pee more than usual (especially during the night)
Feeling pain or a burning sensation while peeing
Cloudy-looking urine
Blood in urine
Stomach pain or lower back pain
Fever or a low temperature
Feeling shivery
Serious UTI symptoms
The following symptoms can be signs of a kidney infection, which is more serious than a bladder infection. Seek medical advice immediately if you:
Have a very high temperature
Have a very low temperature (below 36C/95F)
Feel drowsy or confused
Have difficulty speaking
Haven't peed all-day
Have pain in the lower stomach, back, or under your ribs
See blood in your urine
How to prevent UTIs
While some of us tend to be more prone to urinary tract infections than others, the good news is there a few things you can do in order to prevent UTIs, including:
Wiping from front to back when you use the toilet
Keeping the vulva clean and dry (avoid douching or cleaning the vagina with soap)
Drink plenty of water regularly
Wash the vulva area before and after sex
Pee as soon as you can after having sex
Change pads and tampons regularly
Treatment for UTIs
If you do get a UTI there are a few treatment options available. A healthcare professional such as a doctor, nurse, or pharmacist can help provide treatment and advice. Self-care can also help relieve symptoms while taking painkillers can ease discomfort. It's important to drink plenty of water and get lots of rest to help your body recover. In some cases you might need to take antibiotics to make the infection go away, these can be prescribed by your doctor, or you might be able to get them at the pharmacy.
If you experience discomfort or pain during sex, you might want to wait until you feel better before you have intercourse. For those with recurring UTIs, it's a good idea to talk to your doctor to discuss more treatment options.
Get to know your body better with Natural Cycles
Natural Cycles is the world's first FDA cleared birth control app. The method uses the science of your cycle to work out your fertile days so you can either abstain from sex or use protection when you're fertile.
When it comes down to it, Natural Cycles is more than a birth control app. You can also track symptoms such as pain, sex drive, and mood to learn more about the pattern of your unique cycle. Why not find out if Natural Cycles could be right for you today?
Did you enjoy reading this article?