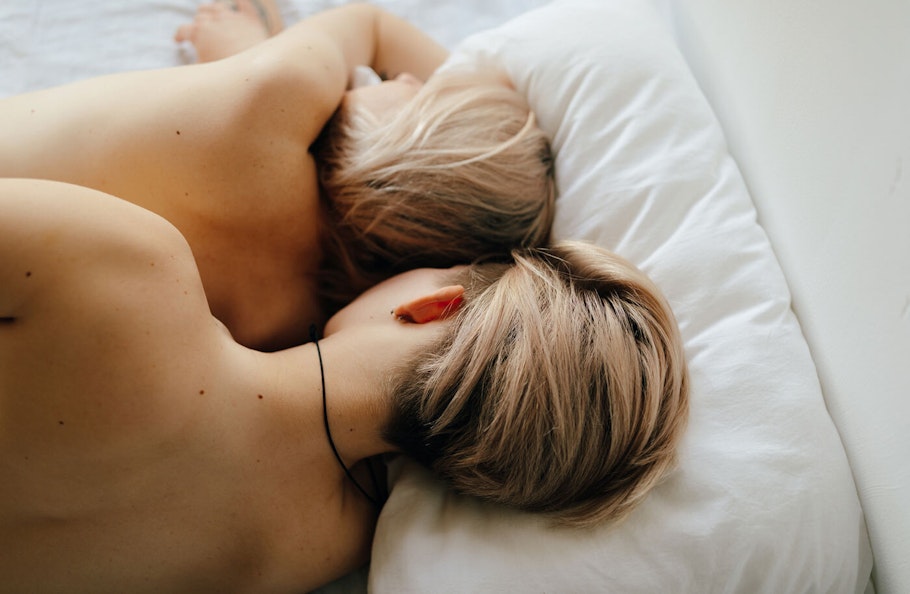 Pain During Sex: Dyspareunia Explained
There are a number of reasons, from medical conditions to psychological and environmental factors, that can cause pain during sex. In this post, we're going to look at some of the reasons anyone can experience pain during sexual intercourse. Read on to find out more...
What is dyspareunia?
Dyspareunia is the name for the pain anyone can experience during sexual intercourse. It's important that we don't ignore any uncomfortable sensations or pain during sex so if you do experience dyspareunia, then you should consult with your healthcare professional to discuss possible causes and treatments.
What does pain during sex feel like?
Everyone's experience is different and when it comes to dyspareunia, it's no different. Painful intercourse can vary from feeling slightly uncomfortable to being very painful. It might be constant, or occasional and depending on the cause it can be a more aching pain or a sharp stinging sensation.
What do we mean by sex?
When we talk about sex, we don't just refer to penis and vaginal intercourse. Sex comes in different forms. To name a few types of sex, there is oral sex, non-penetrative sex, and anal sex. Sex in all its forms can be painful for anyone. However, there are steps you can take such as using lubricants, building trust, and taking things slowly that can help reduce discomfort. The most important thing is to communicate clearly, listen to your body, and talk to your doctor if you have concerns. Now, let's take a look at some of the causes of dyspareunia in women and men...
Pain during sex for women
Women can experience pain during sex in both the vagina and the pelvic areas. Let's take a look at some potential causes of pain during sex for women.
Causes of vaginal pain during sex:
Infections - pain during sex can be caused by infections such as thrush, or from sexually transmitted infections. Regular check-ups and testing is a useful way to catch any infections early.
Menopause - the changes in our bodies caused by menopause can also lead to painful intercourse. Consult with your doctor to manage the symptoms of menopause and reduce pain.
Vaginismus - this is a condition where the muscles in the vagina tighten when something is inserted into it. This can lead to painful sex, if you think you have vaginismus, speak with your doctor to discuss treatment.
Vulvodynia - this is a condition that causes pain around the vulva (the external genital area). This pain can be constant or might be triggered by touch, but with the help of healthcare professionals, it is possible to treat vulvodynia.
Lack of sexual arousal - this can happen to anyone at any age, but a lack of libido or sexual arousal can make sex painful. Clear communication with your partner and advice from medical professionals can help.
Allergies or irritation - inflammation of the genital area caused by allergies or irritation can also lead to pain during sex. Seek medical advice if you think you might have an allergy.
Causes of pelvic pain during sex:
Pelvic inflammatory disease (PID) - this is a relatively common condition that can affect uterus, fallopian tubes, and ovaries. PID can often be treated with a simple course of antibiotics.
Endometriosis - another condition that affects many women is endometriosis. This happens when tissue that's similar to the lining of the uterus starts to grow in other places such as the fallopian tubes or ovaries. Treatment for endometriosis ranges from painkillers to surgery.
Fibroids growing near your vagina or cervix - non-cancerous growths, fibroids may cause pain during sex. They may not require treatment as they can disappear over time, but there are also methods to shrink fibroids.
Irritable bowel syndrome (IBS) - this is a common problem that affects the digestive system. In some cases, it can lead to painful sex, but symptoms can be managed and it's possible to alleviate pain with the guidance of medical professionals.
Constipation - also a potential cause of painful intercourse, constipation is common and can happen to us at any age. Luckily, we can usually treat it ourselves at home with changes to diet and lifestyle.
Pain during sex for men
Men can also experience pain during sexual intercourse. Again, if you or your partner notices any changes in your sexual health, it's always a good idea to speak to a healthcare professional. Some causes of pain during sex for men include:
Infections - thrush and other infections such as STIs can lead to pain and discomfort during sex. Stay on top of sexual health with regular check-ups and STI tests.
Tight foreskin - if the skin around the tip of the penis is tight, it can make penetration uncomfortable when the skin is pushed back. Pain during sex may be avoided by using condoms and lubricants. There are some creams, gels, and ointments that can be prescribed to treat a tight foreskin, in some cases surgery may be needed.
Tears in the foreskin - if the foreskin is damaged it can also make sex painful. Tiny tears may not always be visible, but they can cause a sharp stinging pain. Avoid sex until the tears have healed. Condoms and lubricants can be used to avoid future tears.
Prostatitis - this is an inflammation of the prostate gland that can lead to pain during sexual intercourse. Prostatitis can be treated with painkillers and a course of antibiotics.
Testicular swelling - this can happen if ejaculation hasn't happened for a while. Some sexually transmitted infections can also cause pain and swelling in the testicles.
Track how your body changes during your cycle
We know it can be difficult to talk about our sexual wellbeing. However, pain during sex can be a symptom of other conditions and it's important we seek advice and treatment early. Clear communication and trust between partners is a really important part of understanding our bodies and discussing our needs. Women's pleasure is often surrounded by stigma, but we are now breaking down those outdated ideas by giving women access to knowledge about their bodies.
Keeping track of the pattern of your unique cycle is a really helpful way to notice changes in your sexual health. For example, you may notice an increase in sex drive in the days leading up towards ovulation, while this may dip again in the days before your period. With Natural Cycles, you can track changes to sex drive, pain, emotions, and more.
In fact, Natural Cycles is the first-ever app to be cleared as birth control by the FDA. Meanwhile, the science behind its ovulation prediction means you can also use it to plan a pregnancy, meaning it's there for every step on your fertility journey.
Did you enjoy reading this article?