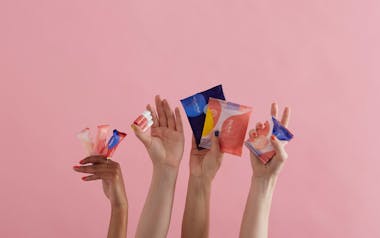 5 Ways to Prepare for Your Period
This Menstrual Hygiene Day, we've teamed up with our partners at Callaly to put together a handy guide on how you can prepare for your period. Whether you're a seasoned Cycler, or are just looking to learn a little more about the timing of your menstruation, check out our period hacks and find out how you can prepare to have the most comfortable period possible.
1. Prioritize self-care
First things first, we want to highlight the importance of looking after yourself. While periods come with a whole lot of physical symptoms, there are many of us who experience emotional shifts too. If you notice significant mood changes in the lead-up to your period, this may be a symptom of PMDD, a severe form of PMS (premenstrual syndrome). If your symptoms are getting in the way of your day-to-day life then you should consult with your doctor to get advice and treatment.
While we might feel the pressure to go on like normal during our periods, this is definitely a time to put our needs first. Whether it's taking a hot bath or getting out of the house for a long walk, there are lots of little ways we can practice self-care during our periods. If you're able to look ahead to when your period is due, our best advice is to carve out some time just for you.
2. Set the speed you need
Exercising on your period can be really beneficial, and while some of us may not need to change pace when our period starts, others may find they want to do more gentle exercises. What's important is that you adapt your pace to you and find a routine that works for your body. In the days before your period is due you might want to change up your running routine, book certain classes or fit in one last high-intensity workout.
If you're looking for a discreet, but effective period product to use while exercising, then Callaly's tampliners can offer extra protection. Tampliners are a brand new period product combining organic cotton tampons with soft mini-liners for extra protection against leaks. Designed by a gynecologist, tampliners are convenient, mess-free, and hypoallergenic.
3. Stay hydrated and healthy
Drinking lots of water in the days before your period and during menstruation itself can help reduce the bloating that comes with PMS. Since we often retain more water during this time than at other points in the menstrual cycle, this can lead to discomfort and weight gain. Drinking lots of water and eating a balanced diet can also combat breakouts - depending on your skin these can be common in the lead-up to your period, and you might want to plan period skincare differently.
All that said, we know this can be a tricky time of the month and it can be difficult to balance your needs and wants. How we look after ourselves is highly individual, so if a chocolate bar or two is what's going to get you through, you do you...
4. Manage pain on your terms
If you suffer from painful menstrual cramps, getting your period can be pretty debilitating. Treatments such as heat packs and hot water bottles can ease discomfort. You might also want to stock up on painkillers like aspirin, ibuprofen, and paracetamol as these can help with mild period cramps. Reducing alcohol, tobacco, and caffeine in the days before your period can also help curb those unpleasant symptoms.
If you feel up to it, gentle movement like going for a walk or taking a slow yoga class can also help reduce period pain. Many find that their libido rises again during their period, this is due to the dip in the hormone progesterone. Orgasms can actually help with period pain and remember there are many types of sex besides penetration. Whether you feel like having sex on your period is a personal decision - there are no right or wrong ways to manage your period pain.
5. Stock up on period products
Last, but definitely not least, be practically prepared for your period with menstrual hygiene essentials. It doesn't matter if you prefer tampons to pads, favor the menstrual cup, or opt for a pair of period underwear, you'll want your supplies handy when menstruation starts.
This Menstrual Hygiene Day, we're doing something a bit different. We've partnered with Callaly, creators of the tampliner and all-round period product pioneers, to give our readers an exclusive discount. If you're in the U.K, Ireland, Sweden or the Netherlands, you'll get 50% off your first Callaly box which you can personalize to your period needs. Click here to unlock your offer and get products that are organic, certified, and kind to your body delivered straight to your door.
Take control of your cycle
We hope you've enjoyed reading up on how to prepare for your period. Here at Natural Cycles, we're dedicated to increasing knowledge around reproductive health. Our birth control app is the first of its kind to be cleared by the US FDA and can help you prevent pregnancy hormone-free. The app also gives you unique insights into your unique cycle, including updates on when your period is due and when to carry out a self-breast exam. Ready to find out if Natural Cycles could work for you?
Did you enjoy reading this article?