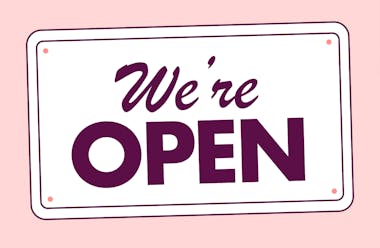 5 Over-the-Counter Birth Control Options
From nightstand regulars, to innovative online birth control, check out our list of over-the-counter birth control options that can offer some peace of mind in these uncertain times. We'll cover where you can get them, how they work, their effectiveness, and more.
1. The external (male) condom
The first on our list is a real classic: the condom. The great thing about these latex sheaths is you can get them really easily, at the grocery store, the pharmacy, or you can order condoms online.
Condoms are worn on the erect penis and work by being a barrier method, i.e. preventing the sperm and female egg cell from meeting. Another great feature of condoms is they can protect us from sexually transmitted infections, since the same obstruction that prevents pregnancy also prevents bodily fluids from mixing.
It's worth remembering that no birth control method is 100% safe. However, in terms of birth control effectiveness, condoms are 87% effective with typical use (including user error) and 97% effective when used perfectly (no user error). Check out our post on birth control effectiveness if you want to learn more.
2. The internal (female) condom
The lesser-known relative of the popular external; condom, the female condom has a lot of the same benefits to offer. It can protect from STIs and is available without a prescription. It's generally a bit harder to get hold of and is a bit more expensive, but is over-the-counter birth control that you can ask for in most pharmacies, or order online.
Unlike the external condom, the internal condom doesn't require an erect penis for it to be fitted as it's worn inside the vagina. This makes it preferable for some - as it means foreplay doesn't have to be interrupted. Using an internal condom also means the barrier method can be controlled by a woman.
It's worth noting that the internal condom is overall a bit less effective than the external condom coming in at 79% with typical use effectiveness, and 95% effective with perfect use.
3. Spermicide
Meaning sperm killer, spermicide alters the sperm cell's membrane, slowing it down and stopping it from fertilizing the egg cell. Spermicide comes in a few different forms (for example, creams, gels, and lubricants), but all of these need to be inserted into the vagina before penetrative sex for the spermicide to work.
Convenient and cheap, spermicide is available in pharmacies and some grocery stores, or can be ordered online. Used on its own, spermicide is 79% effective with typical use and 84% effective with perfect use. Some condoms also come with added spermicide, offering even more protection.
4. The birth control sponge
Not everyone knows about the birth control sponge, but this porous preventative is readily available without a prescription in drug stores, pharmacies, and some grocery stores. The sponge usually comes in packs of three, and each can be used multiple times in a 24-hour period.
The sponge should be inserted deep into the vagina before sex. It works in two ways, by blocking the cervix and acting as a barrier between sperm and egg, but it also contains spermicide. Once inserted, you can leave the sponge in for up to 24 hours and use it multiple times. It's important you leave the sponge in for at least 6 hours after you've last had sex.
In terms of effectiveness, the sponge comes in at 83% effective with typical use and if used perfectly is 88% effective. It's worth noting that the sponge is a more effective birth control method for women who have never given birth, and it does not protect against STIs.
5. Natural Cycles, digital birth control
A new player on the contraceptive landscape, Natural Cycles was the first digital birth control method to be cleared by the U.S. FDA. Natural Cycles is hormone-free birth control that can be purchased without a prescription online and in select stores.
There are two things you need to have in order to use Natural Cycles, a basal thermometer, and an app. The thermometer is used to measure basal body temperature (your body's lowest resting temperature). The app is powered by an algorithm that uses temperature data to find your ovulation. That's right - your temperature changes during the menstrual cycle!
The app works by finding your fertile window. It gives you a daily fertility status that tells you if today is a green day (not fertile) or a red day (fertile - use protection). On red days, Natural Cycles recommends using condoms or abstaining to prevent pregnancy.
With typical use, Natural Cycles is 93% effective. With perfect use, Natural Cycles is 98% effective. Natural Cycles does require users to use protection or abstain on red days and does not protect against STIs.
Don't forget Plan B
If you've had unprotected sex, you can still use emergency birth control. This is available over-the-counter in your local pharmacy. The morning after pill is most effective when used up to three days after you've had sex.
Switching to over-the-counter birth control methods
Thanks for checking out our list of over-the-counter contraception and online birth control! We hope you've discovered some new non-hormonal birth control options. While these birth control methods are over-the-counter and don't require a prescription, switching birth control methods can be a big decision and we always encourage you to speak with your healthcare professional if you have questions.
Here at Natural Cycles, we want every woman to have access to more knowledge about her body and her birth control options. Do you want to learn more about your unique cycle? Why not find out if Natural Cycles could work for you?
Did you enjoy reading this article?