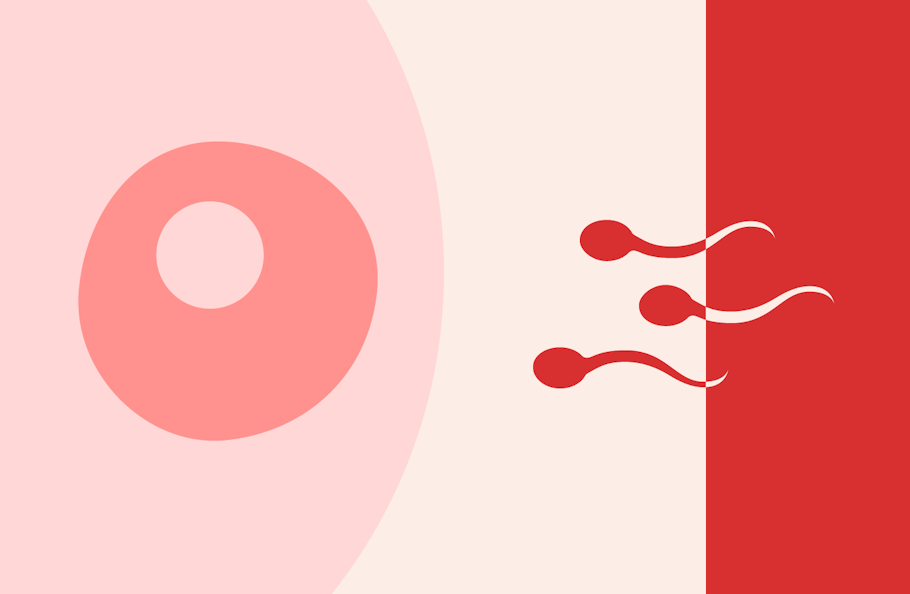 Can You Get Pregnant On Your Period?
Period sex can be a divisive matter. For some people it's a regular part of their sex lives, for others it's a messy no, no. Whatever your stance on the matter, here at Natural Cycles, we're all about clearing up the myths and misconceptions about reproductive health, so we're on hand to answer one simple question: 'can you get pregnant on your period?'
This article is also available in Spanish.
Can you be fertile on your period?
While it's extremely unlikely, the simple answer is yes. Women are not able to conceive whilst on their period, but sperm survives within the female reproductive system for up to five days. This means that a tiny fraction of women do have a small chance of becoming pregnant from unprotected sex during their period. It all depends on the length of your menstrual cycle… simple, right?
Let's take an example, say you have a menstrual cycle shorter than 28 days. You have sex towards the end of your six-day-long period and ovulate shortly after, then there is a chance that some of the sperm survive and you could get pregnant. So while getting pregnant is unlikely, it's technically possible if you don't know your fertile window.
Can you ovulate on your period?
You cannot ovulate on your period. If you are trying to plan a pregnancy, the best time to conceive is on the day of ovulation and 24 hours before - so the chances of being fertile on your period are extremely low. It's also worth knowing that some women may experience spotting around ovulation - this is a much smaller amount of blood than you get with period bleeding. If you are spotting, you may be fertile.
Chances of getting pregnant while on your period
It's very unlikely you will get pregnant in the days immediately before your period. However, we are all unique and our cycles are not the same and so our peak fertility varies. This means for some women the days before menstruation are fertile. Getting pregnant 5 days before your period is a possibility for some women, if they ovulate close to the end of their menstrual cycle, but typically peak fertility occurs earlier in the menstrual cycle.
Can you get pregnant on your period with birth control?
Unfortunately, no method of birth control method is 100% effective. So if you use a condom on your period, it breaks and you are fertile directly after your period, there is still a risk of pregnancy - although this is extremely unlikely. If you are using hormonal birth control, then the monthly bleeding you may experience is not in fact a period, it's called a withdrawal bleed. Since hormonal birth control works by stopping ovulation, you will not have a fertile window in the same way as with non-hormonal birth control. If you're using Natural Cycles as a birth control method - then you will know your own fertile window.
The ins and outs of period sex
So now we know it is possible to get pregnant on your period, it's important you take the right precautions. When used correctly, barrier methods such as the condom are very effective at preventing pregnancy and also offer protection against STIs.
While many may think it's gross or messy, having sex on your period is perfectly healthy and lots of women swear by it for a number of reasons. Due to a dip in progesterone, you may find your sex drive increases around menstruation. On top of this, orgasms can alleviate period cramps and cause the uterus to contract more, which in the end can mean shorter periods too.
Before you get into the swing of things, make sure you remove any tampons or menstrual cups before sex. These block the vaginal passage and it can be dangerous if they are misused or left too long inside the vagina.
While you might be expecting a Stephen King-style horror scene, you may actually be surprised by how little menstrual blood there is. The heaviness of your period is a very personal thing that varies from cycle to cycle, however, the average woman will only produce 6-8 teaspoons worth of blood during her entire period. That being said, you might want to have an extra towel on hand, or suggest things get steamy in the shower.
Period tracking power
Thanks for reading! Keep in mind that tracking your periods can give you the power to predict and know the pattern of your cycle.
Did you enjoy reading this article?