12 Hot Topics from 2021
Join us as we take a look back at our memorable moments from the year! From vagina facts to talking about different types of sex, there's been a lot happening on the CycleMatters blog. Get cozy, grab a cup of hot chocolate, and let's wrap this year up together…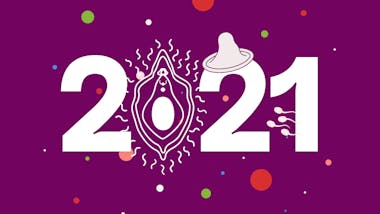 1. A very vagina agenda
This year, we really worked to bring vaginal health into the conversation. From 5 facts about the vagina, to posts on the causes of vaginal dryness, and how to clean the vagina (spoiler, you don't need to), it's safe to say we've enjoyed exploring this often neglected corner of reproductive health.
Recently we also teamed up with the expert team at LetsGetChecked to put together a guide on vaginitis, including the symptoms of this common condition, and how you can test and treat vaginitis from your own home.
We're by no means done talking about vaginal health, and there will be plenty more anatomical articles coming in 2022 - watch this space!
2. Every method has its own effectiveness
This year we zoomed in on various methods to understand their specific effectiveness and how they are used. We kicked things off by looking at the effectiveness of the pull-out method, proving once and for all that the oldest methods aren't always the best!
We also covered the effectiveness of the birth control pill as well as the effectiveness of condoms and the calendar method! If you want to understand more about how birth control effectiveness is calculated more broadly, take a look at this post on the Pearl Index.
3. It's about bloody time
This year we celebrated Menstrual Hygiene Day on the 28th of May. This is a global campaign that busts stigma and boosts period awareness. Of course, we're totally on board! Our post 7 Signs Your Period is Coming was written to create better awareness of the hormonal changes in the body in the lead up to menstruation.
We also partnered with period gurus Callaly to publish a quick guide on Ways to Prepare for Your Period. Check out menstrualhygieneday.org for more info on this great calendar date! We hope you'll join us in spreading awareness next year!
4. Shining the spotlight on PMDD
In the spring we also took the time to talk about Premenstrual Dysphoric Disorder, a severe form of premenstrual syndrome (PMS). This lesser known condition has a real impact on mental and physical health. However, there are options for management and treatment out there, and thankfully this condition is becoming more recognized.
While we always encourage you to seek advice from your healthcare professional if your life is being impacted by PMS symptoms, we know that the days leading up to periods can be tricky. So we partnered with Midol(R) to put together a guide on 5 Ways to Manage PMS, featuring exercise, diet, pain management tips, and more.
5. It's getting hot in here
Things were heating up earlier this year, with an abundance of sex and pleasure features appearing on the blog. From 5 Facts About the Clitoris to a complete guide to The Female Pleasure Anatomy, there was enough exciting reading material to keep everyone warm!
We also turned our attention to creating more inclusive content when it comes to talking about sex, this included an article on the different types of sex, as well as a post on masturbation, plus the nuances of whether or not it's possible to get pregnant from anal sex. Since we're serious about recognizing all types of sex, we've also added new sex trackers to the Natural Cycles app.
6. Sharing Cycler stories
Our blog is an excellent place to celebrate our community of Cyclers, and we published some great guest posts this year. From Sophia's article on coming off hormonal birth control to Bonnie's honest Natural Cycles review, we're so grateful to hear from our Cyclers.
In October, we worked with Zoë Aston, a Natural Cycles professional psychotherapist (and a Natural Cycles user) to help raise awareness of pregnancy loss. Since miscarriage affects 1 in 5 pregnancies, it's really important we normalize talking about it. Thank you, Zoë, for taking the time to share your personal story with us.
7. It's a wonderful World Contraception Day
Being in the business of birth control, we can't let World Contraception Day pass without celebrating this important calendar date. This year we hosted an expert panel on changing birth control methods where we discussed all things contraception.
We also published 5 Facts for World Contraception Day to help continue the conversation. This blog post draws from a survey of more than 4,000 Natural Cycles users' own experiences of changing birth control methods.
8. We brought side effects to the center
This year we worked harder than ever to talk about birth control side effects. These unwanted symptoms are often an afterthought, and are widely accepted as being a normal part of being on birth control. However, we strongly believe that shouldn't have to be the case. Increased education and broader contraceptive choice can help combat negative experiences on birth control.
Our blog post 7 Spooky Side Effects of Birth Control came out just in time for Halloween, and that's no coincidence since we think headaches, mood swings, and changes to sex drive are just as scary as any ghoul or ghost!
9. Posts for pregnancy planners
We know plenty of our Cyclers are using the Natural Cycles app to get pregnant. So we made sure to publish posts for you too! Earlier in the year we worked with our in-house expert Dr Jack Pearson to put together a guide on what to eat when pregnant. Dr Jack has more than ten years experience working in the field of fertility and leads the charge on all things medical here at Natural Cycles.
We recently also published a post about the best time to take a pregnancy test - this guide is designed to help those wondering whether or not they are pregnant, as we know there's a lot of anxiety around early testing we're eager to help reduce stress any way we can.
10. Sperm made a special re-appearance
We also turned our attention to the small but significant sperm cell in a post dedicated to some surprising facts about these swift swimmers! For example, did you know that the average healthy male ejaculate contains tens of millions of sperm? That may sound like loads, but sperm cells are really tiny.
This feature on sperm built on our existing articles about sperm production and how long sperm live. While it might not seem directly relevant to female health - sperm is an important topic here at Natural Cycles, as sperm survival is just one of the aspects our algorithm has to take into account when calculating the fertile window.
11. We need to talk about… the perimenopause
The 18th of October is World Menopause Awareness Day. However, we know it's important to talk about menopause all year round. This year we took a closer look at perimenopause, covering the common signs and symptoms, as well as some potential ways to manage and treat these.
Menopause has historically been a highly stigmatized topic, and many people's experiences have not been properly recognized as a result. With so much to make up for, we'll be talking more about menopause over the coming months, so keep a look out if you'd like to learn more!
12. Learning is a constant journey
Thanks for sharing this eye-opening journey with us! Here at Natural Cycles, we're passionate about increasing awareness around our own reproductive health. By following your cycle, you can learn more about the different phases and even spot patterns in your body you didn't know were there before. Last but not least - we want to emphasize that learning comes down to you.
Earlier this year we published 7 Signs of Ovulation. This list is a handy place to start if you're looking to understand one of the most pivotal points in the menstrual cycle, but this is only just the beginning. By joining our community of Cyclers who use the Natural Cycles app, you can get access to loads more info about your body and your unique menstrual cycle.